公司-Maruti Suzuki Q4 Results 2022: PAT jumps nearly 58% to Rs 1838.9 cr, sales volume decline 0.7%; declares Rs 60 dividend
Maruti Suzuki Q4 Results 2022: India's largest pasenger car maker Maruti Suzuki India Limited today reported a Profit After Tax of Rs 1838.9 cr for the quarter ended 31 March 2022, which was up nearly 58 per cent year-on-year (YoY). The net sales were up over 11 per cent YoY for the reporting quarter Rs 25514 cr as against to Rs 22958 cr reported in Q4 of FY21.
See Zee Business Live TV Streaming Below:
The company reported a decline in its sales volume by 0.7 per cent to 488830 as against 492,235.
Maruti Suzuki Q4 FY22 Results – Key Highlights
– Operating EBIT was up over 42 per cent YoY at Rs 1779.6 cr
– Profit Before Tax or PBTwas reported at Rs 2198 cr up almost 68 per cent YoY.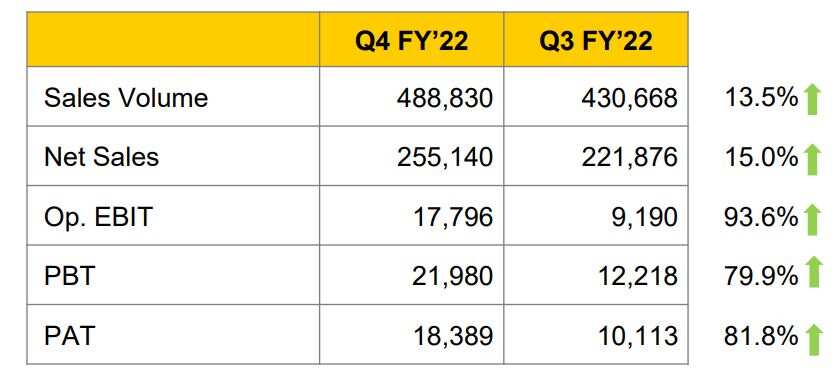 The results were announced during the market hours. Maruti Suzki shares ended at Rs 7,841.30 and were down by Rs 46.85 or 0.59 per cent on the NSE minutes before the market closing time.
Dividend
Though the profit in FY 2021-22 was lower, the Board of Directors recommended a dividend of Rs 60 per share (face value of INR 5 per share) compared to INR 45 per share in FY 2020-21. This is a special one-time gesture to thank shareholders for their patronage and support as the Company commemorates its 40th year since inception.